After longer break were born JRT puppies in our kennel ...
Litter U
born on September 13th, 2016
Father: Crazy Diamond Energizer "GIGI"
Junior Winner of JRT Show Konopiste 2015 - 111 JRT entered
Mother: Contessa Bohemia Platina
(ICH. MCH. Touchstar Orinoco x ICH. MCH. Wafle Bohemia Platina)
Males:
Unimax
Union Jack

Female:
Umi Super

female in middle

female

male
~~~~~~~~~~~~~~~~~~~~~~~~~~~~~~~~~~~~~~~~~~~~~~~
Further we offer for sale young smooth brood female:
TAIGA BOHEMIA PLATINA
born on November 25, 2014
full teeth, scissor bite, 26 cm high
brood female
Father: Darwin Bohemia Platina - (son of our successful male Rapunzelin Wildlands Billy)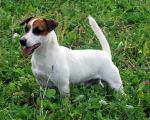 Mother: Contesa Bohemia Platina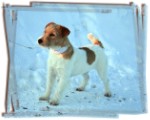 We decided to sell this young sweety girl, because we are so busy and we want for our girl great lovely home. Female is young, good healthly, with beautiful pedigree. I am sad because of her sale, but good life for our dogs is the most important.